The Gunzeys Celebrate Their 50 Years Together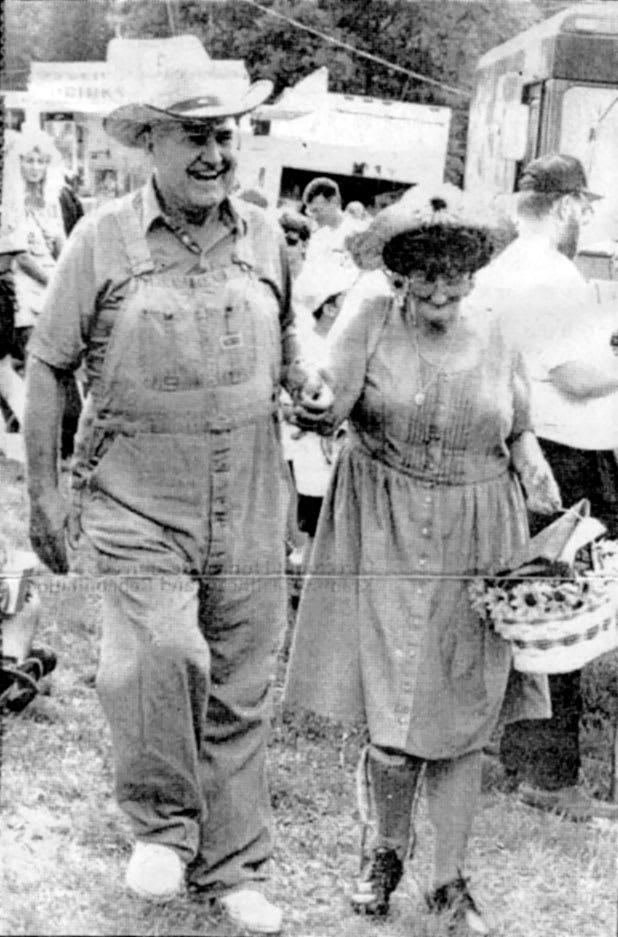 Harold and Lois 'Gunzey' get ready to take the stage to renew their wedding vows.
By PAMELA BRENNAN - Staff writer, Standard/Journal
KELLY CROSSROADS – After 50 years of marriage and nearly 33 years serving "the best hot sausage" in the central Susquehanna Valley, Harold and Lois Gonzales deserve some recognition.
The Gonzales' (a.k.a. The Gunzeys), of RD2 New Columbia, renewed their wedding vows during an impromptu ceremony during the 28th Annual Country Music Jamboree held this weekend at Kelly Crossroads.
On hand for the ceremony were country music stars "The Rev." Whispering Bill Anderson and Master of Ceremonies Ronnie Prophet. Vows for the ceremony were written by Jeffrey Ryder, a friend of their son Twain. Ryder was formerly a screenwriter for "Dynasty."
Harold and Lois were married April 14, 1946, only 3 1/2 months after the couple officially met. The two had been pen pals for four years while Harold was in the service.
The couple thought the Jamboree would be a fitting place to celebrate their anniversary because they have been instrumental in its planning. Harold is president of the Friendship Club, which hosts the yearly event. Lois is in charge of booking the performers.
"I told (Whispering) Bill (Anderson) our 50th anniversary was coming up in three years," recalled Lois. "He said, "I'll be there."
She described the ceremony as "wild and crazy."
"I can't wait. It'll be a wild, wild thing," she said just days before the big event. "If anyone knows me, they'll know it'll be a lot of fun."
Most of the Gonzales' family was in attendance - watching while keeping their posts at the Gunzey's sausage and chicken stands nearby.
Since the portable restaurant business took off over 30 years ago — the business has remained 'all in the family,' with the Gunzeys' three children and seven grandchildren often helping out at local fairs and carnivals.
Yearly tours include the Bloomsburg Fair, West End Fair, Lycoming County Fair, Jersey Shore Fourth of July celebration, and the Bradford, Clearfield and Huntingdon fairs.
But, according to Lois the business' roots run much deeper.
"We actually started where the Fence Drive-In is now located," she said.
The business then comprised a tent where the Gonzales sold hot dogs.
"People always told me I was a good cook," said Lois.
That prompted the family to open a restaurant in Milton and then Mt. Carmel. Soon, the family was taking their edibles on the road.
But, don't dare ask for the recipe. Lois said her recipe for the sausage is made by a meat market in Pennsdale.
"If you went there and asked them for it, they wouldn't give it to you," she added.