Gunzey's sausage sandwich favorite of 'Town Meetingers'
Saturday, July 7, 1990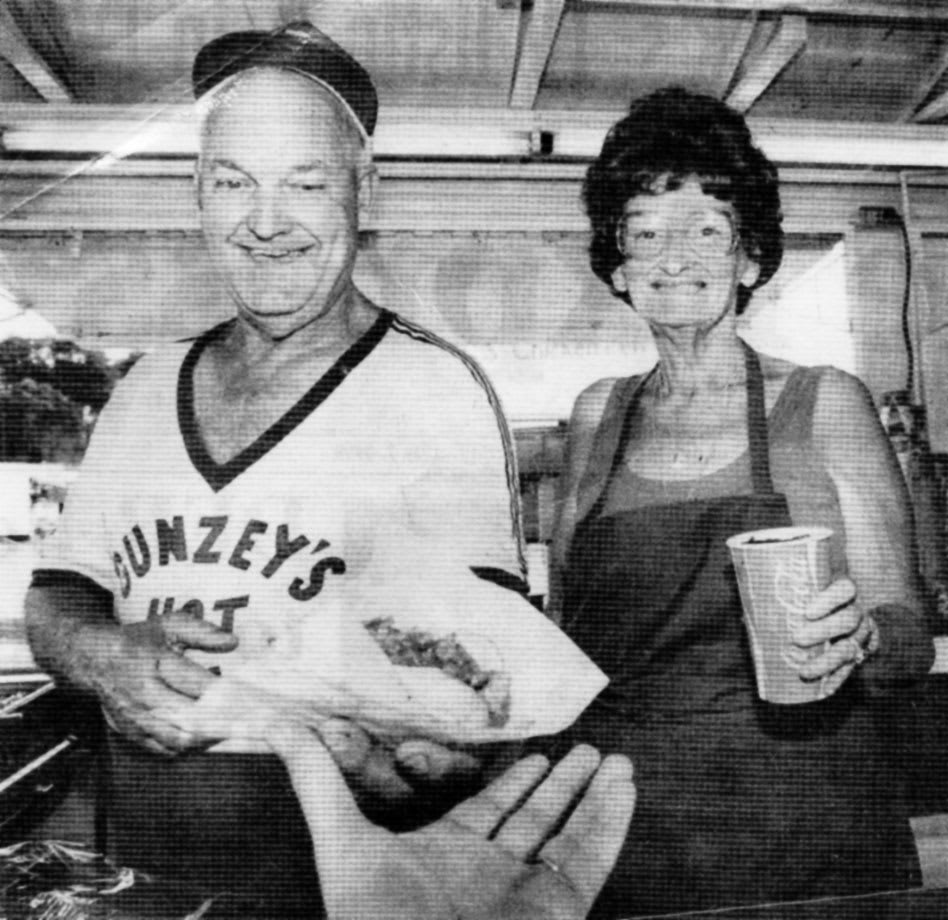 Harold and Lois Gunzey are as popular a couple as any Baby Sweetheart King and Queen at Jersey Shore Town Meeting. Their sausage sandwiches are "famous" throughout the region, and have been part of Town Meeting for 26 years. (Express - photo by Butch Miller)
Editor's Note: Each week, Express photographer Butch Miller makes his way to a street corner or some such place and finds readers who want to share their opinions for our "Street Beat" feature, which appears Saturdays. This week, he was intrigued with the popularity of the Gunzey hot sausage stand at Jersey Shore Town Meeting. It turned our photographer into a writer.
By BUTCH MILLER Express Staff Writer
JERSEY SHORE - I had been polling spectators that were gathered to view the parade Thursday night at Town Meeting.
"What is your favorite part of the Town Meeting celebration?" I asked them.
Gunzey's.
Being somewhat of a connoisseur of sausage sandwiches. I felt the need to investigate the matter very thoroughly. Very thoroughly.
Making my way to the goal of the Gunzey's stand was easy. Just followed my nose. Standing back for a few moments to savor the aroma and scan the grill for the proper ingredients, I slowly approached the counter for a closer look. What I saw was sausage lover's heaven.
By this time most of people that were involved in the parade as watchers or walkers had made their way to the midway also. As I patiently waited my turn to order I noticed several smiling faces and overheard several "oohs" and "ahs" as customers enjoyed the first bite of their sandwiches. Then it struck me that whoever was providing this food had to be very special and it piqued my curiosity to the point I wanted to know more about them. This is what I found.
It all started 28 years ago when Harold Gunzey, of New Columbia, had the opportunity to purchase the business from a co-worker. In those days the restaurant operated from a tent.
Over the years they updated equipment and now they use several trailers and offer a wide ranging menu which includes steak sandwiches, chicken and the like.
Lois Gunzey, Harold's wife of 44 years, seems to be the cornerstone of the operation. Her friendly smile and genuine interest in her customers is something that so few modern day consumers can enjoy. When asked what she likes most about her work, "The people, God Bless them", she responded. "They bring us all kinds of goodies like fudge, cakes and pies. We really enjoy that."
Bonnie Tupper of Jersey Shore was nearby enjoying her sandwich when I asked her what she liked most about the food "The sausage, the topping, the roll, everything. I would drive to Hughesville or Bloomsburg for another one."
By this time I could wait no longer I had to sample the Gunzey's specialty of the house for myself. I was not disappointed. I can't remember the last time that I purchased sausage sandwich that had more sausage than roll. I made mention of this to Lois and she said, "I've had arguments with my competitors about that … They say we shouldn't make them so big. But it's what our customers expect, and we give it to them."
The Gunzeys have been at Town Meeting for 26 of their 28 years in business and find that it is one of their favorite stops on the circuit. "We certainly have made a lot of friends here over the years," Lois smiles.
You might think that after nearly three decades of traveling all across the state to carnivals and fairs that the Gunzeys would consider retirement,
"My bones say yes but my heart says no", Lois confided. Harold who has undergone open heart surgery twice, most recently in January of this year, indicated "If I die at this grill, I die happy".
If you haven't had the opportunity to stop by to see Lois and Harold, there is still time as they will be there until the carnival closes tonight. You'll have some great food and the chance to meet some very special people.
By the way I'm going back for seconds.