Sizzling Sausages Sell at Fair
September 28, 1989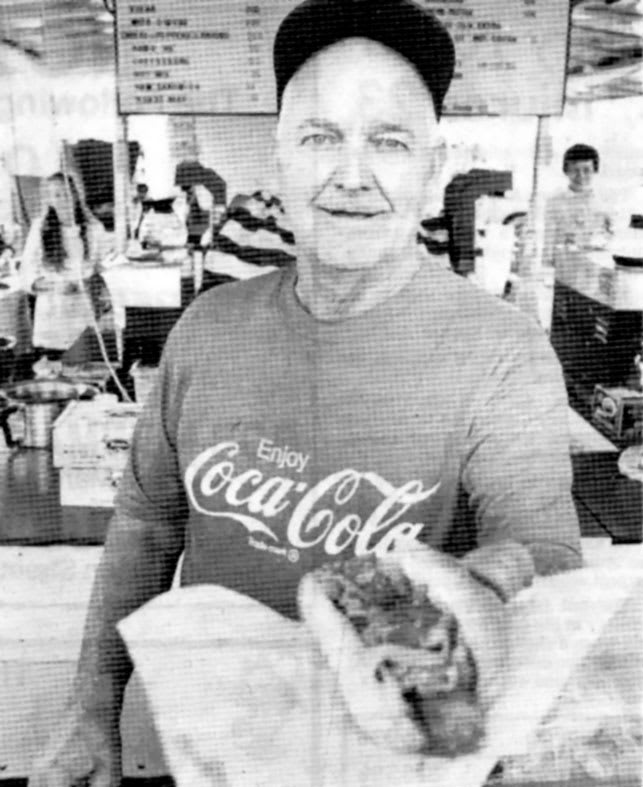 Harold Gonzales of New Columbia hands a sausage sandwich to a customer at the Bloomsburg Fair. A retired railroad worker, Gonzales has operated his stand at the fair for 27 years. The fair continues through Saturday.
By RICH VANSLAVIE Staff Reporter, The Daily Item
BLOOMSBURG – Sizzling grills send up clouds of steam carrying a medley of tantalizing aromas that beckon young and old alike at the Bloomsburg Fair.
One of the many familiar aromas is that of sausage, green-peppers and onions, a perennial sandwich favorite among fair-going crowds. At the Bloomsburg Fair, a good number of those sausage sandwiches come from the grills of Harold and Lois Gonzales, better known as Gunzey's, of New Columbia RD2. For 27 years the couple have been plying their trade to a clientele they said has steadily grown.
They have built a thriving business, which began in a 10-foot by 20 foot tent. "We got into this because my husband said I was a good cook. It started out as a hobby," said Mrs. Gonzales who is 62.
Their early menu was simple – sausage, hamburgers, hot dogs and fries. It has expanded to include steak and cheese sandwiches, ham sandwiches and a special sausage patty topped with an egg and cheese.
Today they and about 20 relatives and a few hired workers run four stands during the week-long fair. It is one of many they attend throughout the summer.
Sitting side by side Wednesday evening next to their camper and one of their food stands, the couple peeled and sliced onions as a demanding dinner crowd placed their meal orders. "After 27 years of this we have no tear ducts left. We don't cry anymore," said a laughing Gonzales, who is 64 and retired as an engineer with the Pennsylvania Railroad.
Mrs. Gonzales prefers to cut the onions by hand instead of by machine. She said a machine makes them tough, although she cannot offer any scientific proof to support her theory. "It's just the way I like it," she said.
In all, they used about 150 pounds of onions on Wednesday.
"We cook ours (sausage) the old fashioned way — we cook it on a grill," said Mrs. Gonzales. One of their stands, called Gunzey's Pig Pen, cooks enough sausage for the other stands to keep up during periods of high demand.
Initially the couple paid about $2,200 for their first stand. "Today you can't get one for less than $10,000." said Mr. Gonzales.
Later their son-in-law, John West, and a cousin, Jerry Haines, built another stand that they travel with it takes about four hours to set up.
Sausage sandwiches are the most popular item on the menu. The sausage is made daily at a nearby meat packing plant and delivered the following day. "It is made according to our specifications," said Mrs. Gonzales.
The couple maintains a trailer on the fairgrounds where they and some of the other workers — relatives and hired employees - Sleep for the week, A second trailer owned by their daughter sleeps the rest of the crew.
Opal Morgan, 11, of Milton, is one of the non-family members working the fair this year. Mrs. Gonzales said the girl received permission to take off from school, although she still must do her homework. "I am strict with them. I want to know where they are all the time."
She said working the fair is a good opportunity for the younger members of the crew in that they get to meet the public on a regular basis.
And meeting the public is something she and her husband do with ease. Within a period of 45 minutes about 10 visitors stopped to chat with them. "We have beautiful customers. They follow us from fair to fair," said Mrs. Gonzales.